With so many choices of ballpens to custom brand, how do you pick the perfect pen for your marketing campaign or event? From budget friendly giveaways to top of the range executive pens, there are so many options! Here at Navillus, we feel it's always a good idea to choose quality and great design. A generous printing area, unique barrel colours and customisable packaging make all the difference. Italian made Maxema Pens can offer you all of these and more. For those who desire a little more than 'just a printed pen' treat yourselves to a peek at some of the very latest Maxema writing instruments, perfectfor personalisation.
Maxema Soft Pens - Stylish, Italian, Designer Pens
The Maxema Pure range of pens, dramatic yet elegant, compact with a generous refill, the Pure pen is a statement pen. A tactile, rubberised barrel for comfort when writing, or matt, gloss or satin finish if preferred.There's a choice of twelve colour options including vibrant neon shades for added impact with blue or black ink. This is a pen that will command attention!
The Maxema Dot Pen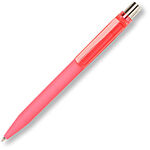 A pen with a difference, the Dot has a clean cut linear profile, and a distinctive elegant design. The retractable push button has an eye-catching touch of colour in the centre, to make it stand out. Available in an extensive palette of matt or gloss shades, or soft touch rubber coating for a unique writing experience. Be bold and go for a rubberised black barrel with a contrasting colour button and printed clip, that'll get your clients talking!
Maxema Zink Pen
A sturdy design with a precise geometric profile, a custom branded Zink pen conveys a lasting impression of solidity and reliability. It has a generously sized cap and a long slim barrel, perfect for overbranding with your corporate or event information. A choice of four models and sixty colours means there is a promotional Zink pen for every occasion or event.
Maxema View Pen
With curved lines and slender sections to evoke prestige and timeless values, the View is a 'wow' pen. A chromed clip and barrel tip contrast with the sixty six colour variants and choice of finishes. It's a superior pen that suggests advanced visions, unique style and prestige. Engrave or custom print your details for a marketing pen that will go the distance.
These are just a few of our quality promotional pens manufactured in Europe by Maxema. Here at Navillus we believe in offering the latest exciting pen designs and colour combinations we can source. Pens with a difference, tactile, soft coated, long lasting and most of all, printable. Businesses, schools, charities, whatever the event, we guarantee top quality pens, a simple ordering process and a great service.
Just click on the link below or call us on 020 7442 2211 for a chat about what we can do for you.