Printed Promotional Prodir Pens
If you are looking for the best in class, you just cannot beat the Swiss manufactured Prodir pens for iconic design, tactile finish and durability. Prodir have designed 'personality pens' to make an amazing marketing impact.
You want a pen that reflects your corporate identity. A pen that stands out from the ordinary. A pen that's reliable and has great refill technology. Prodir ballpens are genuinely Swiss made, manufactured in Swiss/ItalianTicino. Their production sites are all in southern Switzerland, limiting movement of materials. This makes Prodir Pens sustainable and environmentally friendly. Manufacturing pens in the heart of Europe.
The Prodir range is designed in modules so you can mix and match the colours, with hundreds of different components offering thousands of combinations. This ground breaking system offers you the flexibility to build you own unique writing instrument. Prodir have even developed their own advanced refill technology system of long lasting refills, in a choice of blue or black ink.
Prodir design unique writing instruments. Look at the inventiveness of Swiss creativity. The Dada art movement began in Zurich. The Swiss put mustard in a tube! Did you know the sugar cube was invented in Switzerland? Jakub Krystof Rad designed a press to mould sugar into cubes in 1843. Prodir have taken an everyday item, the ballpoint pen, and elevated it to a design classic.

Here are the new models and a little bit of an explanation as to what Prodir can offer you.
The Prodir QS01 pen is a stylish tapering pen with an injection moulded diamond pattern. Tactile and a pleasure to write with, the QSO1 has a smooth clip to print on. This contrasts well against the 3D patterned barrel and will make your logo leap out!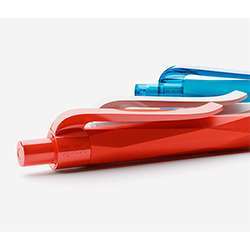 The Prodir QS20 pen has a sculptural quality to its design. People will be unable resist picking it up, and that's the secret of a top promotional pen. The smooth clip is minimalistic but with a generous branding area to decorate with your logo. It comes in Matt or Soft Touch barrel finish and is available in eleven colours.
The Prodir DS3 Biotic pen. Prodir have developed their environmentally conscious DS3 Biotic pen biodegradable pen. Including the refill and the spring, the DS3 Biotic Pen is 80% compostable overall. The colours have names that reflect a connection with nature: sea, snow, night, fire, carrot, sand and grass. The sand colour option even has wood powder (FSC) added to the biotic plastic . This creates a textured sand effect for a unique, tactile writing experience.
The Prodir DS8 is their pen with a triangular shaped barrel and a choice of five metallic colours for the clip with the option to colour match the push button. The barrel surface come in Matt, Polished or Soft Touch in a range of colours including mix and match within one plastic surface. We even can print or engraved your logo on the metal clip for a smart final touch of class.
The Prodir DS9 pen is their sleek pen with its unique changing barrel shape. Choose from Frosted or Matt for the surface casing and from Polished or Transparent for the clip and push button. The DS9 also gives you the option to have a coloured ring incorporated into the push button. Finally you have Prodir's unique barrel finishes to chose from so you really ares polit for choice!
If you are looking for budget friendly pens then consider the Prodir DS1 with its slim, sleek casing and striking dot feature. The Prodir DS3.1 has been improved on with its enlarged clip to print and the DS5 has a head turning clip cover. All pens in the Prodir range are available in Black or Blue writing colour in Floating Ball® or TechGlide® ink or choose from Standard or SuperDry® Gel.
For the full Prodir Pen and pricing range click on the link below

Prodir Range