Pierre Cardin Pens for Business
We're just crazy about pens here at Navillus so much so that we have over 200 pens on our website for you to choose from. Whether you are looking for pens at competitive prices to brand, high end luxury Pierre Cardin Pens, or you just want something that's a bit different, we have it all. And what's more, we are continually updating our website to bring you the latest trends so that you can find the right pen for the job.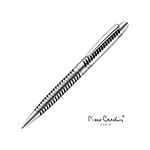 In this post, we want to introduce you to the luxurious range of executive pens from French brand, Pierre Cardin. Built on the principles of contemporary French design, impeccable craftsmanship and utilisation of the latest technology for precision manufacturing, the designers at Pierre Cardin have delivered a range of pens that meet the demands of the most discerning customer.

Each Pierre Cardin pen has been crafted to deliver writing excellence and comfort. Filled with top of the range German document ink and a large ink refill, you are guaranteed an uninterrupted and long-life ink flow. With space to brand your logo or details you can make your pen your very own.

We've selected a snap shot of some of pens from the Pierre Cardin range that grabbed our attention and we know that you will love them too.


Do you have a Lust for Life? Well the designers at Pierre Cardin certainly do because they have delivered the Lustrous range, the quintessential statement of classical style and elegance that you expect from an executive pen.
Manufactured from polished brass and triple plated in 22 carat gold or chromium, the Lustrous Ballpen and Rollerball catches your eye. The craftsmanship is unrivalled. Each pen has been hand-tooled to produce a guilloché surface pattern with the cap manufactured and adjusted to fit precisely with the lower body for the perfect fit. The clip is forged from a single ingot of brass and is hand polished and electroplated to match the pen casing exactly. Have your executive Lustrous pen laser engraved with your company details or personalised for that lasting touch.
The Biarritz Ballpen has that je ne sais quoi luxury quality to it. Manufactured from highly polished brass with chromium plating, it has a unique precision-machined diagonal guilloché pattern that spirals down the barrel of the pen. Available in three colours with space beside the clip for you to brand your logo or details.
Want something that's more classical in style? The Chamonix Ballpen oozes sophistication from its simplicity in design. Made from brass, this pen has been designed to last. The barrel casing is a high gloss black durable enamel. Choose from chromium or gold plating for the upper part and trim. Brand this executive pen with your details to the side of the clip with laser engraving or printing.
Looking for a reliable pen to carry your brand in the workplace? Well look no further. The Lafleur Ballpen is made from aluminium and coated with a specially formulated enamel that comes in a range or punchy contemporary colours for a stand out ballpen. Get your company logo or details laser engraved on the barrel for a satin silver effect to match the chromium trim, or opt for a printed finish to match any colour. This is a great pen to pull out at meetings to be noticed for the all the right reasons.
If you're looking for a top brand at a competitive price because you want a pen that is going to go the distance with your branding at promotional events, then the Fashion Ballpen is the one for you. This plastic pen has been moulded from a high grade Terpolymer for a smooth finish that has highly resistant qualities to it. The Fashion ballpen is coated with metallic paint particles for an electric range of colours to choose from. The barrel has a generous print area for your logo or details to be printed on to give your branding optimal exposure.
For more inspiration, take a look through executive pens section and get in touch for our expert advice and an ideas list. Send us your enquiry, we'll get right back to you.
Just click on the link below or call us on 020 7442 2211 and have a chat about what we can do for you.